Parents, Thank you for your patience during this week as we cautiously monitored the weather for the safety of this community. After careful consideration and multiple conversations, we have concluded that school will continue as normal based on the current forecast. Please continue to stay updated and safe. The Crisp County High School football game that was originally scheduled for this Friday against Dougherty has been rescheduled to this Saturday with kickoff time at 6:30 pm. Thank you for your patience!

Students taking the SAT and/or ACT may be eligible for a registration fee waiver. Complete the Waiver letter posted under "resources" and then "guidance"

Currently, we are working with our partners in the Crisp County Emergency Management Agency to monitor Ian's track and prepare for any potential impact it could have on this community. Officials with the National Hurricane Center and the Emergency Management Agency have said that this storm is particularly unpredictable and that projections of landfall location and intensity are likely to change in the next several hours. Please trust that we are keeping the safety and well-being of your children as our focus as we weigh options for school later this week. We will provide an update as soon as possible. Thank you for your patience.

Ticket sales start Mon., Sept. 19th in the media center. Tickets can be purchased from 7:50AM to 3:15PM. Tickets are $20 per student, CASH ONLY. The last day to purchase tickets is Wed., Oct. 19th. Guests who are not currently enrolled in Crisp County High School must have an approval form completed and turned in by Fri., Oct. 7th. Tickets cannot be purchased for guests until the form is approved by administration. Forms are available in the media center.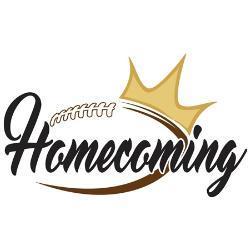 We have a cap and gown meeting with Herff Jones tomorrow, 9/21/2022, at 9:00am in the cafeteria. Please make sure you are present at school to attend this meeting. If you have an unavoidable circumstance preventing you from being there, such as dual enrollment, there will be packets for you to pick up in the Guidance Office after ELT.

Attention Students: If you have not returned your chromebook from virtual learning, please bring it when you pick up your schedule or to Open House on July 27th.

Attention Parents and CCHS Students

Student pick up information for CCHS

NEW cell home policy for CCHS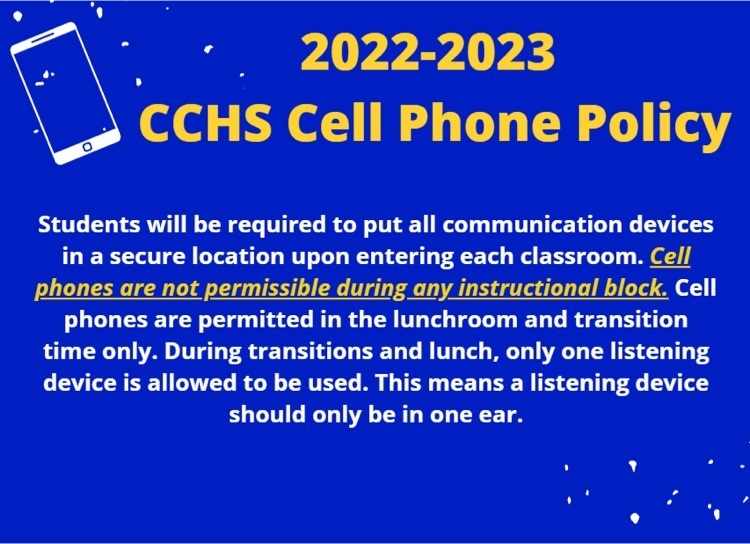 CCHS Open House July 27th from 4 to 6pm

Please post this reminder: ASVAB will be given at 11am in the Cafeteria. Please arrive at 1030 so that you can get a chromebook and get login credentials. The test is open to all 10th, 11th, and 12th graders. There will be 45 seats available so ensure that you sign the form that was sent out Monday.

The ASVAB will be given at CCHS on June 23, 2022 at 11AM. Please bring your ID.


Summer school will be held June 1-28th at Crisp County High School. Students received an email to sign up for summer school if they have failed one or more classes for this school year. Parents will be contacted by letter. If you have any questions, please contact Mrs. Leah Slimp.

CCHS will hold its Undergrad Honors Day today at 9AM. Parents and guests please enter thru the gym doors.

OBLIGATIONS-- SENIOR obligations are due Wed., May 18, 2022. All other class obligations are due Wed., May 25, 2022. Please check with Ms. Wood in the office for your correct information. The amount in Infinite Campus may be incorrect at this time. It is only showing this school year's information. All textbooks, library books and chromebooks need to be returned as soon as possible.

We would like to send a huge congratulations to our GHSA state winners.Our undefeated boys 4x100 are state champions and finished the season with the 5th fastest time in the state of Georgia. They are currently ranked as the 41st fastest team in the United States. Crisp County's 4x100 team consists of Jaylen Gray, Jaylen Smith, Adrion Holton and Jayce Gray. Jayce Gray also finished as the state 100m and 200m champion. Jaylen Smith finished in 3rd place in the 200m and Sawyer McGinnis finished in 9th place in the 3200m race. Our boys also finished third place overall at state and brought home a state trophy to Crisp County.

Today, Crisp County High School was one of 300 schools from 44 states across the country to receive a $5,000 grant through the Laura Bush Foundation for America's Libraries. This year, the Laura Bush Foundation for America's Libraries awarded $1.5 million in library grants this year. Many of the libraries will use the funds to update and diversify their collections. "I am thrilled that children from 300 schools will soon have access to an updated library collection," Mrs. Laura Bush said. "Students across the country turn to books to discover the world around them, and we know that opening a new book opens the door to new opportunities and learning."

Crisp County High School will hold an informational meeting for Advanced Placement courses for the 2022-2023 school year at 6:00 p.m. on Monday, May 16, 2022, in the CCHS media center. If you are interested in your student taking AP courses next year, please make plans to attend this meeting. If you are unable to attend, a face-to-face meeting must be scheduled with Ms. Grinnell, Ms. Patterson, or Mrs. Slimp.

CCHS Track We have 3 relays and 6 individual participants in the State Competition that begins today, May 12th. Sawyer McGinnis will be competing in the 3200m race. Jayce Gray and Ahmad Brown will compete in the 100m race. Jayce Gray and Jaylen Smith will compete in the 200m race. Eric Ivory will be competing in the High Jump competition. Our 4x100 relay teams consist of Jayce Gray, Jaylen Smith, Adrion Holton. Our 4x200 team consists of Jaylen Gray, Tray Walker, Ajani Christopher, Zymorian Jackson and Ahmad Brown. Our 4x400 team consists of Carjarian Jones, Marino Blanton, Keithan Nance, Ke'Von Merrell and Omarion